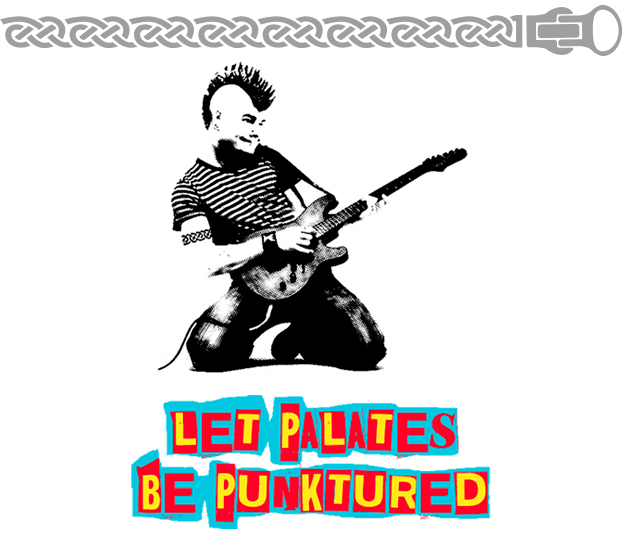 Dust off your leather jacket and secure your safety pins, the loudest day in the whisky calendar has arrived. Ardbeg Day is our global celebration of all things Ardbeg. This year's festivities are set to take place at the Distillery, online, and at locations around the world… all in celebration of our palate PUNKturing Limited Edition – Ardcore.
From a Distillery with more ups and downs than a pogoing punk, comes Ardcore. Created with roasted black malt, this spirit is all about substance. Fired to the extreme, the malt in Ardcore is what defines its distinctive profile. This is a dram that wears its heart on its sleeve. Its black heart! Inspired by the devil-may-care attitude of our loyal fans, and a few lesser-known folk from Islay's punk past, this dram is bottled for Ardbeg's hardcore.
PLUG IN AND WATCH
ARDBEG DAY LIVE
It's all going to kick off soon, so if you're following along from the comfort of your own digs, watch along with us online from 2pm to 7pm (BST). Or, if you want to pogo with your fellow Ardbeggians, make sure you join the Committee and find a local event near you.
The Ardcore agenda is rammed. There will be live tastings from Dr Bill Lumsden, Head of Distilling and Whisky Creation, as well as from Colin Gordon, Ardbeg's Distillery Manager. You can also tune into rocktail making classes, anti-establishment tea parties and all the general Ardbeg Day punkery.
You can watch all the raucousness and rabble-rousing unfold LIVE on Islay. See below for all the links you will need!
Note: All timings shown are BST, be sure to translate start times depending on where you are in the world.

9am: ISLAY CALLING – a tasting of Ardcore, Ardbeg Ten and Ardbeg Wee Beastie for our friends in distant time zones.
The countdown will be LIVE from 8:45am:
To watch live on Facebook CLICK HERE
To watch live on YouTube CLICK HERE
---
2pm: COLIN ON THE RECORD – Ardbeg Day 2022 celebrations go live with Global Brand Ambassador David Blackmore and Distillery Manager Colin Gordon on hand for drams and drums…
Countdown will be LIVE from 1:55pm:
Watch on Facebook
Watch on YouTube
---
3pm: ROVING REVELRY – our punk-on-ground DJ BBQ takes us on a tour of the Distillery happenings, plus tastings of some fan favourite whiskies.
Countdown will be LIVE from 2:55pm:
Watch on Facebook
Watch on YouTube
---
4pm: THE GREAT ROCK 'N' ROLL SWIZZLE – Punk Rocktails with Brand Ambassador Cameron George.
Countdown will be LIVE from 3:55pm:
Watch on Facebook
Watch on YouTube
---
5.15pm: CLOSING TIME – The Distillery shenanigans come to a close, presided over by Committee Chair Jackie Thomson – but don't worry, we'll be back for an encore…
Countdown will be LIVE from 5:10pm:
Watch on Facebook
Watch on YouTube
---
7pm: TOP BILLING – Our grand finale Ardcore tasting with Master Distiller Dr Bill Lumsden and Head of Whisky Creation Gillian Macdonald.
Countdown will be LIVE from 6:55pm:
Watch on Facebook
Watch on YouTube
---
BILL ON THE RECORD
Got a burning question for Dr Bill (Head of Distilling and Whisky Creation) about the roasted black malt in Ardcore? Who his favourite punk outfit is? Or maybe what his favourite punk outfit is! Feel free to ask any question you want, and if there's a specific expression you'd like to see him taste, be sure to let us know now. He'll try to get to as many responses as he can during the live tasting.
TASTE BUDS TRASHED
"Like biting on a spiky ball!"
– Dr Bill Lumsden
Made using roasted black malt barley, Ardcore is a first for Ardbeg, and probably whisky. Dark chocolate and brittle toffee clash, while amped up aniseed and charcoal elbow their way to the fore. it'll PUNKture your palate and trash your taste buds. This is Ardcore.
Will you snatch a bottle? Learn more about our spiky spirit here.
JOIN OUR GANG –
THE ARDBEG COMMITTEE
Ardbeg Days are best enjoyed when you're part of our crew. Join today for access to exclusive Member-only bottlings, VIP events and news direct from the Distillery. If you're already in the Committee, don't forget to round up your own posse of smoke obsessed pals and invite them into world of Ardbeg.
SOUND CHECK!
If Ardbeg is the loudest drink in the room, you better enjoy a glass with the volume (and your windows) right up! You rebel, you! Check out the Ardcore 2022 Spotify playlist and kick out the drams with some banging tunes.
PRINT AT HOME PUNK
Want to throw your own Ardbeg Day shindig at home with your pals? Download the Ardcore kit and print out a tasting mat, recipe cards, and punk party games. It won't take long… you can pogo while you wait!
POLLY AND
THE PUNK ELLEN PUNKS
It's a little-known fact that way back when, in the late 1970s, Islay was a hotbed for anti-establishmentarianism. So much so that the island's main port, Port Ellen, earned the nickname 'PUNK ELLEN'.
There was even a punk posse. At the height of their notoriety, the gang's number reached as many as three! Led by the local hotelier's daughter, Polly the Punk, tourists would come from as far as Portnahaven and Askaig to catch a glimpse of a mohawk, or, if they were lucky, snap a polaroid with them.
These student punks also had a penchant for street art. Could they be the ones responsible for Islay's only ever graffiti?
'OK Corner & OK Rock'
Islay's only graffiti spots that everyone's OK with…
It's said they earnt their keep by touring the island in an old bucket of bolts called 'Black Betty', delivering goods to fishwives and farmers. It was utter mayhem.
While times have changed, the devil-may-care attitude of the Punk Ellen Punks isn't dead. It lives on in Ardcore.