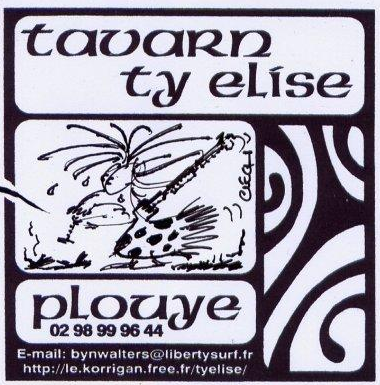 Degemer Mat, Bienvenu(e), Welcome, Croeso i Lydaw ag i 'Tavarn Ty Elise'.
Ambiance positive acçeptée, ambiance negative rejetée.
An hent /Route de Collorec
Bro Gerne/Cornouaille
29690 Plouie/Plouye
Penn ar Bed/Finistere
Breizh/Llydaw/Bretagne/Brittany
Twinned with Carrog in North Wales
All times are negotiable between 6am. & 1am., but generally is as follows:
Llun/Lun/Mon: 11:am/11h > 1am/1h.
Maw/Meu/Mar/Tue: 11h > 1h
Mer/Wed: 11h > 1h
Iau/Yaou/Jeu/Thu: 11h > 1h
Gwe/Ven/Fri: 11h > 1h
Sad/Sam/Sat: 11h > 1h
Sul/Sun/Dim: 11h > 11pm/23h
(33)(0)229250115 (pub) leave message.
Mobile: 0699724935

A little bar lost in the Breton countryside with a clay floor, wood burner, an eclectic music collection, Welsh, Irish, Breton, World, & pop/rock we don't have hip-hop/rap/techno, no juke-box or pool table. We do have real ale, organic artisanal beers and local farm cider, malt whiskies(Scotch, Irish, Breton & Welsh) and bourbons. Priority given to live music; Irish session the first sunday of every month, wifi, and an important football/rugby match now and again.
Coreff Ambrée: Pint = 5 euros, demi = 2 euros 50
Coreff Blonde Bio: Pint = 5 euros, demi = 2:50e
Coreff Blanche: Pint = 5 euros, demi = 2: 50e
Coreff Stout: Pint = 5 euros, demi = 2: 50e
Pint of cider = Pint = 4euros, demi= 2e
My photos of Brittany taken when I was out of work on sale for 5euros each.
T(ee)-shirts: 15e au bar; 20e p+p.
Bar games: draughts; chess; dominoes; cards; solitaire; backgammon. Extensive parking & large beer garden opposite. P.S. For the less discriminating of you I now sell burgers for 3:50e .
(The original premise: "Mainly banter, slightly rambling reminiscences, a little bit political, slightly cultural and a touch of publicity for my bar in Brittany".)

Ambiance positive acceptée, ambiance negative rejetée.
(Positive ambience accepted, negative ambience rejected).
Le mot clé est 'convivialité' - 'Conviviality' is the key word.
Nephew Glenn le Merdy & friend giving an impromptu performance outside the pub/bar in the Summer of 2009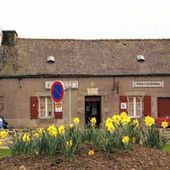 Tavarn Ty Elise - Plouye - Les avis sur Tavarn Ty Elise - TripAdvisor
Tavarn Ty Elise, Plouye : consultez 17 avis, articles et 51 photos de Tavarn Ty Elise sur TripAdvisor.
https://www.tripadvisor.fr/Attraction_Review-g2164839-d4451243-Reviews-Tavarn_Ty_Elise-Plouye_Finistere_Brittany.html